Morris Shochu is authentic Japanese shochu, hand-crafted to give it a delicate, perfumed bouquet perfect for celebrations and evening cocktails. Morris shochu makes a perfect hostess gift, or to keep at home.
One of the best ways to enjoy Japanese Shochu is as a cocktail. We've put together a delightful recipe below. We hope you'll try it out.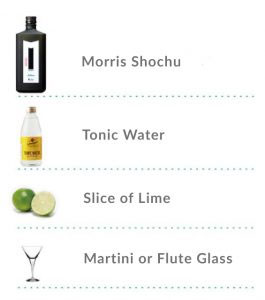 Directions
1. Pour chilled Morris Shochu and tonic water at a ratio of 3:7 into your chilled martini or flute glass.
2. Decorate thinly sliced lime – ready!
3. Add ice if you like.
Tips
Because of the festive champagne feel of our recipe we prefer a chilled martini or flute glass, but you can use any glass you like.
Tonic water has a little sweetness, which give this recipe a champagne feel, but you can also Morris Shochu on the rocks as a sipping drink.
Morris Japanese Shochu is a wonderful and unique gift for any reason and any season. See our range of individual bottles and gift sets.